Electric gates and automatic gates
Gate automation is our speciality, with installations of automatic gates or electric gates throughout Berkshire and the surrounding areas.
We can design your electric gates from our exclusive range or create bespoke gates. They can be constructed from wrought iron or wooden gates are a popular option.
Each of our products can be specially customised to suit your needs and specifications.
When installing gates, all other services can be undertaken by us including all building, electrical and telecoms work.
Red Metal Works can supply and install a range of electric gates, as well as security gates and security doors. Types of gate include electric gates, automatic gates, security gates, sliding gates, swing gates, wrought iron gates, security doors, timber gates, wooden gates. Gate mounted or concealed solutions allow automation to almost every type of gate.
Automatic gates and electric gates can provide smooth and rapid opening gates with increased convenience but without compromising on security. Electric gates can be fully automated with remote access control options including keypads voice and video intercoms, proximity cards and remote control fobs. We supply and fit automatic and electric gates to include underground swing gate operators, bi-folding speed gates and sliding gate openers.
Sliding Gates
A powerful, trusted range of control and drive solutions are available for the automation of commercial gates and industrial sliding gates. Continually rated and with sliding gates movable up to a weight of 4000kg.
A range of models are available to cope with both small and large automatic sliding gates. The motor units are secure and space saving. Motor units have a lockable release mechanism in the event of a power failure. The range can operate any gate weighing up to 2000 kgs.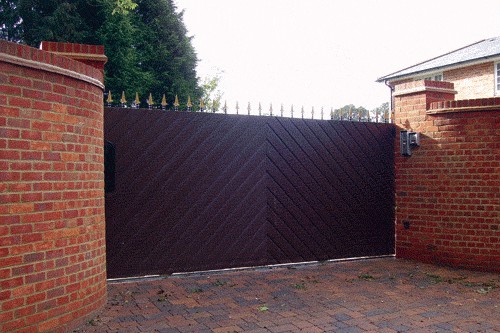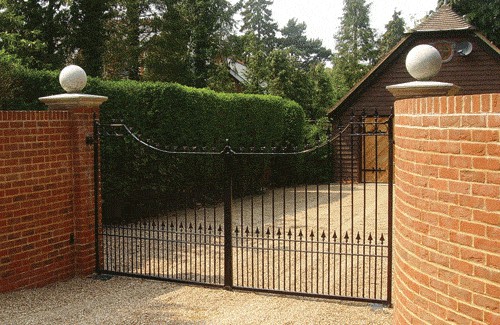 Swing Gates
Red Metal Works can provide hydraulic post mounted systems designed for the demand of high usage commercial swing gates, with maximum leaf weights approaching 1000kg and gate widths of up to 7000mm.
Wrought iron gates
Wrought iron gates are a popular choice of metal gates, while we can also provide gates in a range of other metal materials, such as steel gates. Please contact us to enquire about the various types of metal gate that we can supply and install.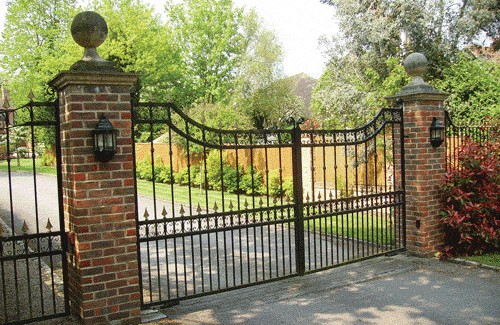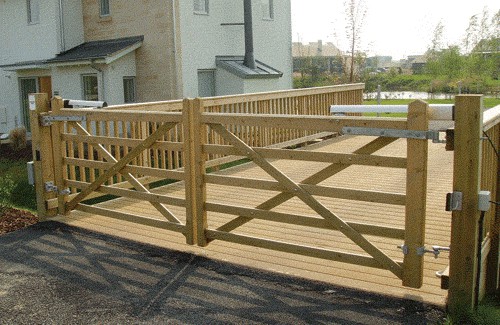 Timber gates / wooden gates
Gates can be supplied in a range of wooden materials. Please contact us to enquire about the various kinds of wooden gate we can supply and install.