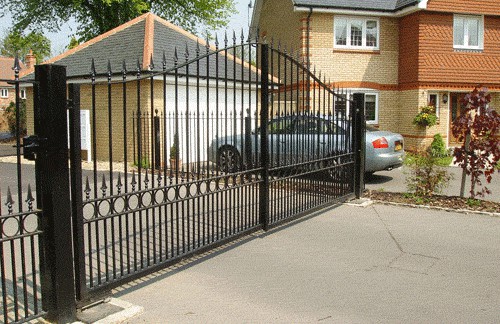 Entrance gates, driveway gates, security gates, estate gates & industrial gates
Enhance your property with a bespoke pair of hand-crafted gates from Red Metal Works. Our entrance gates can be specially customised to suit your needs and specifications. Gate posts can be constructed in brick, stone, metal or wood. Vertical steel supports can be concealed within the brick or stone piers.
Our in-house team of fabrication craftsmen provide a complete solution from gate design to gate automation, through to installation with ongoing maintenance and support.
Driveway gates can also be security gates and Red Metal Works supply and install residential gates, commercial gates and industrial gates.
Gate automation is our speciality, with installations of automatic gates or electric gates throughout Berkshire and the surrounding areas.
When installing gates, all other services can be undertaken by us including all building, electrical and telecoms work.